Skip to Content
Complete Motor Repairs & Rewinds
Herold & Mielenz can repair and rewind all types and sizes of electric motors. Our company always follows the best practices of the Electrical Apparatus Service Association, Inc. (EASA), and maintains reliability and efficiency at, or above, the original manufacturer's specifications. Unlike other operations out there, we use 100% custom polyester resin for all our rewinds, and never charge you extra. That is our standard service promise to you.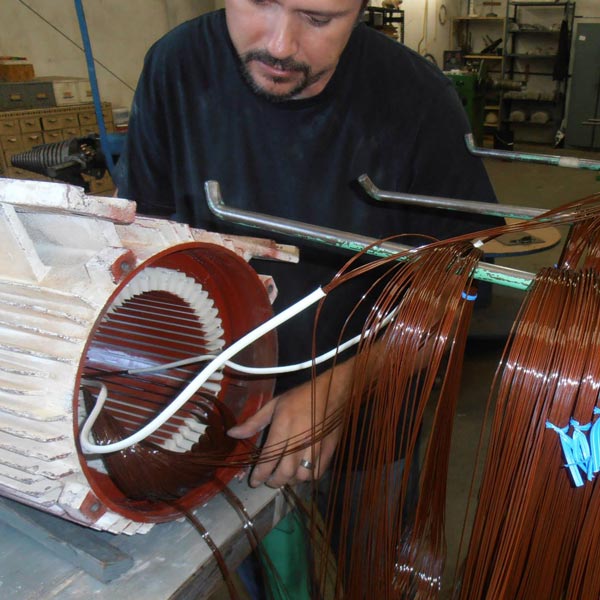 How Does a Herold & Mielenz Rewind Work?
The process begins with placing the Stator in a 700-degree Temperature Controlled Cleaning Oven for 7 hours. Once the unit is cool enough to handle, all the old copper wire is stripped out. The Stator is then thoroughly deep cleaned to the state of better than brand new.
Next, the Inverter Rated High Spike Wire is custom-coiled to the specs of YOUR Stator. Each Cell Slot is then lined with custom-cut, individual, Nomex Insulation, and the actual "REWIND" process can begin. All of the rewinds start with the VPI (Vacuum Pressure Impregnation) process. This process ensures the total saturation of the 100% polyester resin. The resin is drawn through the entire Stator in an Industrial High-Pressure Vacuum Tank. This ensures the total insulation of the rewind. Once fully saturated with the 100% polyester resin, the Stator is then placed into the final oven to bake at 300 degrees for 3 hours to cure it. The purity of our resin has no fillers that would otherwise be baked away during the process.
When this process is finished, your rewind is now ready to go back to work for you!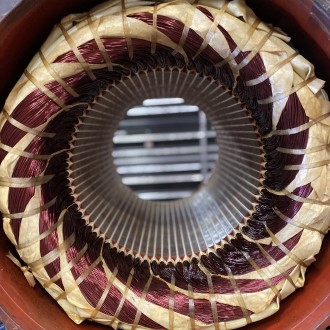 The Herold & Mielenz Difference
Every rewind completed here is done by hand with true craftsmanship in mind. There is absolutely no room for mass-produced malfunctions in our shop. Additionally, all of our rewinds come with a 1-year labor and parts warranty and meet or exceed class H specifications.
Speak With One of Our Experts Today